Possibly the hardest question that I get asked from people when I talk about voice acting is "What's your favorite thing you've ever done?" Everyone has projects they love, and everyone has projects that they don't love as much. It really is hard to pick one.
So much goes into what makes a project fun or fulfilling. A lot of the time it's actually the client. How many of you have ever worked at a job where the work you do is really amazing, but your boss makes you hate your life? I had a few of those during my government days, for sure. It's amazing how one person can make working to defend freedom/save the world/defeat Hydra feel like mucking medieval horse stables. On the other hand, a two minute video on a new cat medication can be a riotous good time if the people on the other end of the line know how to have fun.
For example, I had a client once ask me to use a lead in (ad-libbed introduction) to a line to make sure that it really felt like the next statement was a "wow" moment. It's a common technique; you say something off-script that helps "lead you in" to a moment and make it feel more natural.
So I took a breath and yelled "HOLY SHIT! This software is three times more likely to detect security threats before they become a real danger to your system!" We had a good laugh, one that I couldn't have had with all of my clients.
So, the people you're working with can make a project fun, even if you're not particularly enthusiastic about the subject.
As far as projects that I enjoy purely for the content...well, that has to be video games and animation. That's a broad brush, since the two can be very different, but these two types of projects are basically the reason I moved to LA. There are a lot of things about character work (a term I'll use to lump these two things together) that make it appealing to me. First, of course, is that it leans heavily on what I've discovered is the central theme of my life: storytelling. Yes, there are storytelling elements in commercial and promo, but not change-the-way-you-think-about-life storytelling. Character work has that. Plus, I get to be different people. Check out some pictures of characters I've played: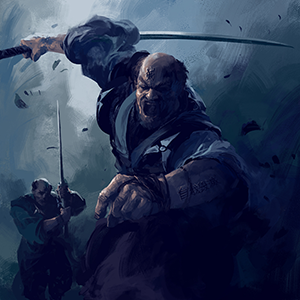 Second, I'm not exactly a guy that people would describe who lives with his heart on his sleeve. I'm usually measured, calculated, and standoffish. It's just an aura that I've picked up over the years, from being an east-coast Italian boy and from the military. So when sometime hands me a script and gives me permission to lose my mind? What a release that is for me. Pardon my sappiness for a moment, but acting has let me get in touch with and understand not just my own emotions, but the emotions of others. Acting is an extreme exercise in empathy. It has - like storytelling - expanded my point of view.
Third, I'm a nerd, and the thought of being in video games makes me giggle. I was playing Oxenfree last week and heard my own voice come out of the radio, heard the other characters talk to me, and I actually chortled like a small child. So sue me; I like validation.
If you're a freelancer - or if you're a dayjobber, who cares? - post your favorite type of project, and what makes it special for you, in the comments below!
Check out my voiceover page, or follow me on Twitter or Facebook, for the occasional voiceover update and clips from projects I've completed.